5 Easy steps to straight teeth
Invisalign takes a modern approach to straightening teeth, using a custom-made series of aligners created just for you. The aligner trays are made of smooth, comfortable and virtually invisible plastic that you simply wear over your teeth. Wearing the aligners will gradually and gently shift your teeth into place, based on the exact movements your dentist orthodontist plans out for you. There are no metal brackets to attach and no wires to tighten. You simply pop in a new set of aligners approximately every two weeks, until your treatment is complete and you achieve the confident smile that you've always wanted. The best part about the whole process is that most process is that most people won't even know you're straightening your teeth.​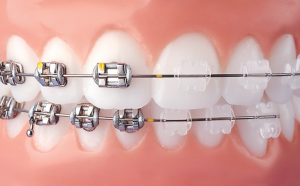 There are different types of braces that serve different purposes and vary in appearance. Some braces are made of stainless steel and are controlled by elastics, and some braces are completely clear, and made of nearly invisible plastic. All braces serve basically the same purpose, which is to enable movement of the teeth in all directions by the orthodontist.
Procedure: The procedure for braces treatments vary greatly, but nearly always will begin with an appointment where all records are established so as to give the orthodontist a plan of action. It must be determined which types of braces are suitable for the patient, and even if the patient can be fitted for braces at all. A visual inspection, as well as a full set of x-rays will generally be taken during this appointment. Additionally, molds and impressions may be made during this appointment and a treatment plan worked out. Typically braces treatments vary in length anywhere between six months to as much as two years. There may also be the additional requirement of orthognathic surgery in order to prepare the teeth and gums for braces.